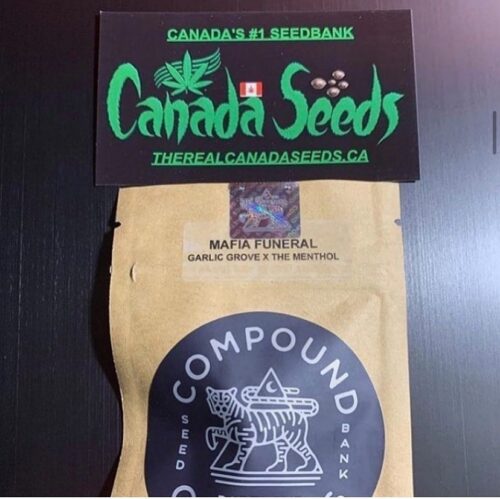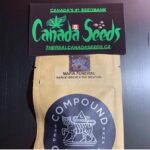 Compound Genetics – Mafia Funeral
$192.00
Description
Compound Genetics – Mafia Funeral
Mafia Funeral by Compound Genetics, a feminised variety cross between Garlic Grove 55 and The Menthol, a Gelato 45 x (White Diesel x (High Octane x Jet Fuel G6) hybrid.
This variety adapts well in indoor and outdoor cultivation, as well as to different cultivation techniques and growing media, both in soil and in hydroponic Systems.
Funeral Mafia flowering
Mafia Funeral matures after about 9 weeks of flowering cultivated indoors, offering an average production. Cultivated outdoor it is ready to harvest in October. It produces compact and highly resinousflowers that release powerful aromas and flavours inherited from its ancestors. Mafia Funeral buds are completely covered in resin, being an excellent choice for hash extractions fans.
The plants acquire several tonalities, displaying great showiness with purple tones when the temperature is relatively low. Some phenotypes show these striking colours in any case.
The Mentol and Garlic Groove 55 ancestors are very powerful varieties both on an organoleptic and psychedelic level. So we can expect from Mafia Funeral a powerful effect and scandalous flavours.
Mafia Funeral offers in its organoleptic profile a mixture of its direct ancestors, with a wide flavours range among which orange soda, cookies, gelato, earthy notes and general Tso's Chicken nuances along with sour garlic notes in a gas background. These aromas and flavours are truly an explosive combination.
Compound Genetics Funeral Mafia info:
Type: Feminised cannabis seed
Genetics: Garlic Groove 55 x The Menthol
Indica/Sativa hybrid
Indoor flowering: 9 weeks
Outdoor harvest: October
Indoor yield: Medium-high
Outdoor yield: >500g per plant
THC: High
13 Feminized Seeds Per Pack!!